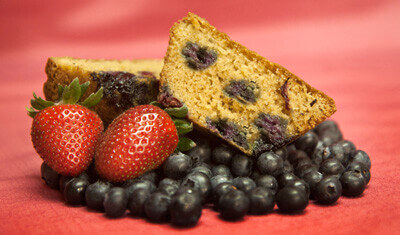 "Monster" Blueberry Muffins
Ingredients:
1 ½ Sticks Butter (room temperature)
1 ½ Cups Sugar
4 Large Eggs
1 1/2 Tsp Vanilla Extract
1 Cup Sour Cream
¼ Cup Milk
2 ½ Cups Flour
2 tsp Baking Powder
½ Tsp Baking Soda
½ Tsp Salt
2 Cups Fresh Blueberries
Method:
Beat the sugar and butter together either in a large bowl with an electric mixer, or in a mixer for about 5 minutes on medium until mixed thoroughly. Add eggs one at a time on low until incorporated. Add vanilla, Milk and Sour Cream.
Sift together flour, baking soda, baking powder and salt. Add to batter while on low. Scrape down the sides and make sure that the batter is mixed together. Gently fold in blueberries
Scoop into muffin cups in large muffin pans, about a half cup of batter each. Bake at 350 degrees for about 20-25 minutes until golden brown and cake tester comes out clean. Makes 12 extra large muffins.
Remove from pans while still warm and let cool completely.