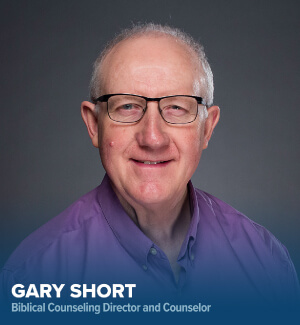 Gary Short
Biblical Counseling Director, Counselor
(LCSW-R) | email
Gary began serving as director of the Biblical Counseling Department in 2008. In addition to over seeing the department, Gary counsels individuals, couples, and families. Gary loves every aspect of being a counselor and daily thanks God for the privilege of helping those that seek Godly wisdom for their concerns.
– Licensed clinical social worker
– Masters in Social Work, EMDR certified (treatment for trauma)
– Clinical experience with individuals and couples, marriage/premarital, and child/teen/parent issues
– Expertise in treating abuse (verbal, mental, sexual, physical), drugs, alcohol, aging, anxiety, sexuality, communication, pornography, and depression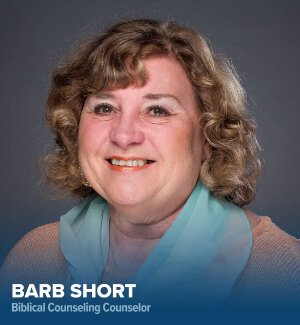 Barb Short
Biblical Counselor
(LCSW-R, RN) | email
After working for 18 years at the Steuben County Community Mental Health Center, Barb joined Family Life's Biblical Counseling staff in September 2010. Barb counsels individuals, couples, families, and small groups with difficult life issues such as anxiety, depression, domestic violence, and sexual abuse. She is blessed by the Lord to help hurting people in any way she can.
– Licensed clinical social worker
– Masters in Social Work, EMDR certified (treatment for trauma)
– Extensive clinical experience in mental health, dealing with individuals and groups
– Expertise in treating anxiety, depression, PTSD, OCD, phobias, sexual abuse, domestic violence, relationship issues, and more
To glorify God by providing opportunities and bring healing to the heart, mind, spirit, the biblical truths. In conjunction with His Healing Light Ministries those options are offered.
Classes –A 29-week, comprehensive Bible study presenting weekly teachings from scripture on various aspects of healing. After the large group study is an hour of small group processing. Groups are facilitated by trained leaders who have applied the principles to their own lives and have watched God produce amazing results! There are men's groups, women's groups. These groups primarily begin in the fall of each year.
Individual Sessions – Scheduled by appointment, these personal in depth sessions are also with Gary and Barb Short and available for men and women. These individual sessions can be for men and women as well as couples.
Boot Camps – For people who have gone through the 29-week Healing Journey Class and wish to lead their own, these 4-day camps train new leaders or refresh leaders to use the curriculum to help others and spread God's mercy and healing to their community. Bootcamps are held in May
4 day intense healing weekend– Are held 2 times a year for individuals and couples to go through a shorter version of the healing journey curriculum Even though these are a shorter version they are proven to be very effective in your healing journey
Healing Journey Retreats– Each year separate men and women who have completed the 29 week healing Journey are eligible to attend a 3 day healing weekend. These retreats provide deeper healing and connection to god
Freedom for teens – A 27 week small group bible study for teens. These groups not only strengthen their walk with God but also heal wounds from difficult experiences.
Hope and Healing Services
Family Life is proud to offer counseling for individuals, couples, and families. Our counselors provide a distinct Biblical approach to the field of personal counseling. Jesus teaches that our thoughts, motives, and actions flow from a sinful heart. Biblical counseling addresses the heart, because heart-change brings about life-change as the Holy Spirit works in a person.
Family Life provides mental health services in the form of:
The Healing Journey is a road map to spiritual healing. Through this program, I have founnd freedom and joy in Christ.