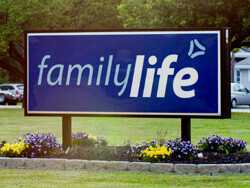 Our mission is impacting lives with the message of hope found in Jesus Christ. We do this through Christian radio, performing arts, biblical counseling, and a variety of concerts and events with the purpose of spreading the Gospel.
Family Life's radio network airs contemporary Christian music, Biblical teaching, kids programs, and news from a Biblical worldview on nearly 70 radio outlets in New York and Pennsylvania. Family Life also can be heard online, and knowing listeners appreciate musical variety, has customized several other online music streams – Rock, Urban, Light Jazz, Southern Gospel, Instrumental and more – all within the Christian genre.
Extending music and the arts to the stage, Family Life uses music concerts, theater, and dance to creatively communicate and connect audiences to the Gospel. Together with an inspirational staff and many dedicated volunteers, our performing arts outreach presents stage plays, musicals, dance performances, and provides theatrical training for developing talent. Family Life's Center for the Arts, an extension of the performing arts outreach, offers private vocal and instrumental lessons, along with a variety of dance classes for students to learn the arts in a Christ-centered atmosphere.
Family Life cares deeply about matters within the home and family. There is hope for healing and we believe Biblical counseling is part of the solution. Biblical counseling is a distinct approach to the field of personal counseling that solely relies on the Word of God to bring about lasting change in a believer's heart and mind. Our mental health services include personal, marital, and parent/child counseling, along with counseling for addictions, abuse, trauma, and anxiety/depression.