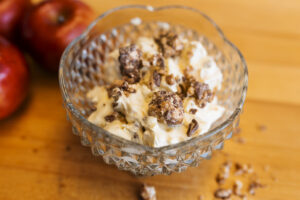 Snickers Waldorf Salad
Ingredients:
3.4-ounce Instant Vanilla Pudding mix
1 cup whole milk
8-ounce container Cool Whip (The small container.)
6 apples – chopped.  Skin on or peeled…your preference. It is much prettier If you leave the skins on. Also, your choice of apples. The tartness of Granny Smith apples helps to off-set the sweet of the rest of the ingredients.
1 ½ cups cut up Snickers Bars (Approximately 6 full-sized bars.)
Instructions:
Whisk the pudding and milk together in a bowl large enough to hold 6 cut up apples and 1 ½ cups Snickers bar.  Let sit for 5 to 10 minutes.
Fold in Cool Whip, apples, and Snickers Bars.
Refrigerate until ready to serve.
Refrigerate leftovers (if there are any!!!) in a covered container.