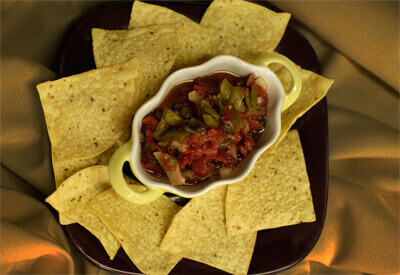 Ingredients:
1 22oz can Whole Peeled Tomatoes
1 Small Vidalia Onion Peeled and Halved
1 Poblano pepper
1 Green pepper
2 cloves of garlic
2 Tbsp oil
Salt and Pepper to taste
Method:
Rub Peppers, garlic and onion with oil and roast in a 350 degree oven for about 25-30 minutes. Turn the peppers half way and roast until skin blisters and flesh is dark green.
Transfer all vegetables into a bowl while still hot and cover with plastic wrap. Refrigerate for about an hour.
Peel off the skin of the peppers, remove seeds and core. Chop all vegetables and combine. Add Salt and pepper.
For a hotter salsa, add 2 tbsp Franks' hot Sauce and 1 Tbsp Cayenne Pepper. Best when made the day before. Makes about 2 Cups of salsa.