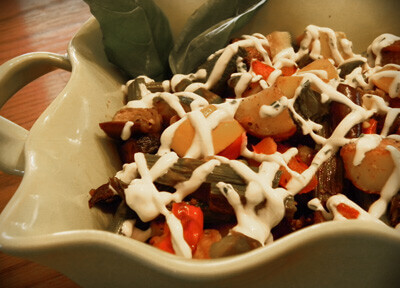 Roasted vegetable salad with Crème Freche
Ingredients:
2 Ears of Corn Shucked
About 1 # Red Potatoes Diced
4-5 Garlic Cloves
1 # Asparagus Chopped
1 Portobello Mushroom Cap Diced
1 Red Pepper Diced
1 Green Zucchini Diced
1 Yellow Squash Diced
1 Eggplant Diced
2 Tbsp Mesquite Seasoning
1/8 Cup Chopped Fresh Basil
Olive Oil
Salt and Pepper
1 Cup Sour Cream
2 Tbsp Half and Half or Milk
Salt and Pepper
Freeze Dried Chives 1 tbsp
Garlic Powder 1 Tbsp
Method:
This one will take some planning! Make sure that the pans
are not overcrowded so the veggies don't turn to mush!
In a foil lined pan,
place the corn, potatoes and garlic cloves. Sprinkle with olive oil and season
with about half of the mesquite seasoning. Salt and pepper if desired. Roast at
400 degrees for about an hour until potatoes are tender and corn is cooked.
Turn corn and potatoes about half way through.
In a separate pan lined with foil, place Asparagus, Peppers,
and Mushroom. Season with remainder of mesquite seasoning. Roast at 400 degrees
for about 40 minutes, turning half way through.
In yet another separate pan lined with foil, place squashes
and eggplant and season with salt and pepper. Add fresh basil and roast at 400
degrees for about 25-30 minutes.
When all veggies are tender (NOT MUSHY!!) remove from oven
and let cool. Remove corn from the cob
and combine gently in a large bowl (The whole recipe makes about 6 Cups)
For the crème freshe, combine Sour Cream, Half and Half,
salt and pepper to taste, chives and garlic in a separate bowl. To take it up a
notch, place the crème freshe in a pastry bag with a small tip or a baggie with
the corner snipped out and pipe it over the salad. Or just dollop over salad.
Serve at room temperature. If making this ahead of time,
make the salad and keep the crème freshe separate. Refrigerate both but remove
from the fridge about an hour before serving! Play around with your favorite
veggies if you'd like!