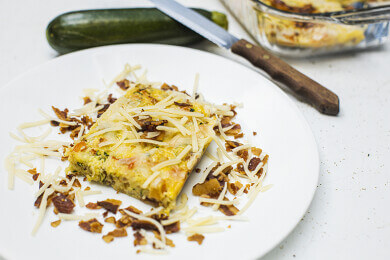 Ingredients:
1 Medium Onion, Diced
1/2 Pound Bacon, Chopped
2-3 Zucchini
1 Red Pepper, Diced
1 1/2 Cups Sharp White Cheddar Grated
1 Cup Flour
2 Tsp Baking Powder
6 Eggs, lightly beaten
1/3 Cup Milk
Salt and Pepper
Method:
In a large skillet, cook together the bacon and onion until the bacon is crispy and the onion is tender. Drain the fat off.
Shred the zucchini and place in a strainer. Sprinkle with a little salt and let sit for 10 minutes in the sink. Squeeze out as much liquid from the zucchini as possible. Combine in a large bowl with the bacon and onions.
Add the flour, baking powder, peppers, cheese, eggs and milk. Mix together until flour is incorporated.
Line a 9×13 pan with parchment paper and spray the paper with pan spray. Pour in the egg mixture and smooth out. Bake at 325 for 30 minutes.
Serve and enjoy hot or cold!