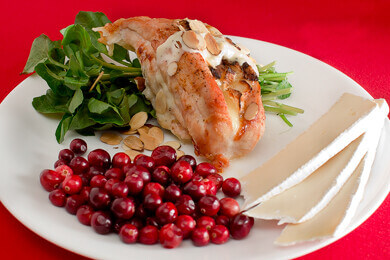 Maybe a new family favorite?
1 apple cored, peeled and diced small
1 1/2 pounds chicken breast
8 oz Brie
1/4 cup dried cranberries
Dash of: lemon juice, Salt, Pepper, Paprika
For the sauce: 2 cups heavy cream, Salt and pepper
1/2 cup toasted slivered almonds
Method:
Pound out the chicken breast until thin. Sprinkle the cut apples in the lemon juice. In each chicken place about 2 oz of Brie and a tbsp of apple. Fold the chicken over? Season the top with salt, pepper and paprika for taste. Bake at 375 for about 45 minutes or until fully cooked. In a small sauce pot, reduce the cream by half. Simmer, do not boil! Season with salt and pepper. Top the chicken with sauce and a sprinkle of toasted almonds.