Ingredients-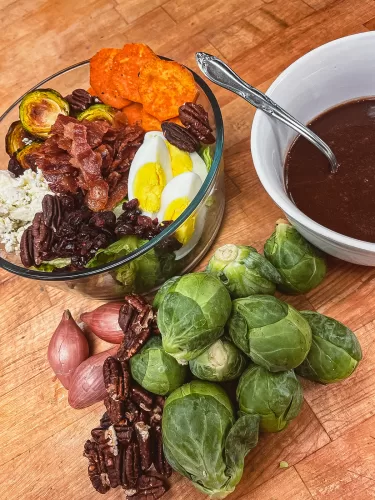 12 oz Bacon, Cooked Crispy, Crumbled
1 Sweet Potato, Fresh
1 Pound Fresh Brussels Sprouts
Olive Oil
Kosher Salt and Fresh Ground Black Pepper
1 Cup Pecan Halves, Toasted
4 Hard Boiled Eggs, Peeled and Quartered
1/2 Cup Dried Cranberries
1/2 Cup Crumbled Blue Cheese
12 oz Chopped Romaine
Dressing-
1 Tbsp Minced Shallots
1/3 Cup Balsamic Vinegar
1/4 Cup Maple Syrup
2/3 Cup Olive Oil
Kosher Salt and Ground Black Pepper
Method-
Peel the sweet potato and cut into 1/4 inch slices. Toss with oilve oil and salt and pepper. Set aside
Trim and Half the Brussels sprouts. Toss with olive oil and salt and pepper. Spray a sheet pan and place the sweet potatoes and brussels sprouts cut side down. Roast for 15 minutes at 350 degrees.
To make the dressing, combine the vinegar, shallots and maple syrup in a bowl. Slowly whisk in the olive oil until smooth and combined. Add salt and pepper to taste.
Place the lettuce in bowls and top with the assorted toppings. Drizzle with the dressing, serve and enjoy! Makes 2-4 Dinner Sized Salads.