These flavors will beat those winter blues!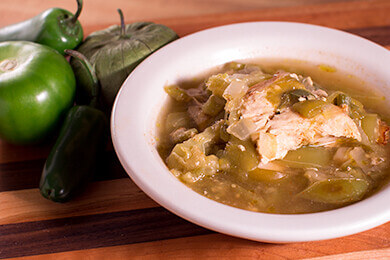 Ingredients:
1 1/2 Pounds Chicken Breast
Oil
1 Green Pepper Diced
1/2 Onion Diced
1 Jalapeno Diced
1 Tsp Salt
2 Pounds Tomatillos (or green tomatoes) Diced
8 Cups Chicken Stock
1/2 Gumbo File Powder
1/2 Tsp Chili Powder
Pinch of Black Pepper
Method:
In a large pot, heat a little oil and brown the chicken on both sides. Add peppers and onion and stir until translucent. Add salt, tomatillos and chicken stock. Bring to a simmer. Add seasonings and simmer for about an hour or until chicken is falling apart.