Summer may be coming to a close, but you sure don't have to eat like it!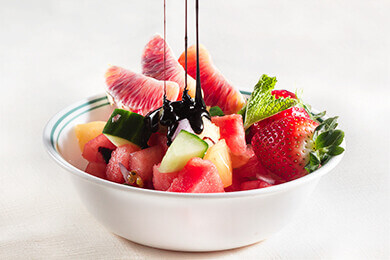 Ingredients:
1 Cup Balsamic Vinegar
1 Tbsp Honey
1 Seedless Watermelon Peeled and Cubed
1 Seedless (English) cucumber, Diced
1 Tomato (I used yellow for color), Diced
1 Pint of Strawberries, Cut into quarters
1/2 red Onion Diced
1 Sprig of Mint
1 Orange
Method:
In a small sauce pot, simmer the vinegar and honey for about 15 minutes. The vinegar should coat a spoon. Place in refrigerator
In a large bowl, combine the watermelon, cucumber, tomato, strawberries and onion. Crush the mint and tear it apart and sprinkle it over the salad. Add orange segments.
Once the vinegar is cooled, drizzle over the salad and serve immediately. Makes 4-5 Quarts depending on the size of your watermelon!