A very unique way to eat watermelon!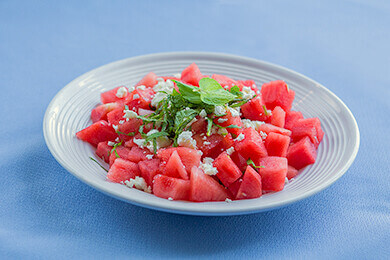 Ingredients:
1 small Seedless Watermelon
8oz Feta Cheese (uncrumbled)
1/4 Cup chopped Mint
1/4 Cup Chopped Basil
Olive Oil
Methods:
Remove rind of the watermelon and cut into bite size cubes. Drain excess moisture in a colander or paper towels. Place watermelon in serving bowl. Crumble the feta over the water lemon. Top with fresh herbs and a drizzle of olive oil. Serve and enjoy!