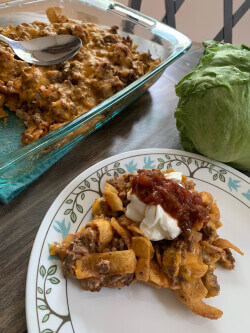 Ingredients:
1.5 Pounds Ground Beef
1/2 Cup Chopped Onion
1 Small Can Diced Green Chiles
1 Cup Salsa
4 Oz Cream Cheese
9 Oz Bag Corn Chips
2 Cups Shredded Cheddar Cheese
Toppings- Shredded Lettuce, Sour Cream, Diced Tomatoes, Salsa
Method:
Brown beef with the onions, about 10 minutes. Once the beef is fully cooked and onions are tender, drain the fat. Add in chiles , salsa, and cream cheese. Mix together.
In a 9×13 pan, fill the bottom with chips, top with beef mixture and then top with cheese.
Bake at 350 degrees for 25 minutes. Scoop onto plates and serve with toppings!