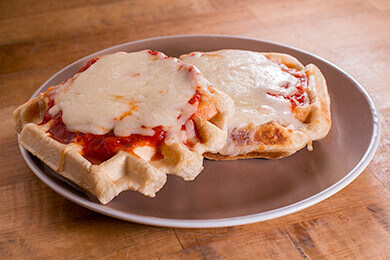 Yearning for Pizza!? Don't want to order out!? Make a waffle pizza!
Ingredients:
Fresh pizza dough
Pizza sauce
Cheese
Your favorite toppings
Method:
Heat your waffle iron. Place dough into individual waffle shapes. Cook until golden brown, making sure that the crust is cooked through.
Add sauce and cheese and toppings. Use the top of the waffle iron to melt your cheese by hovering over the pizza. Do not press down (you can finish them off in the oven if you'd like)
Serve!