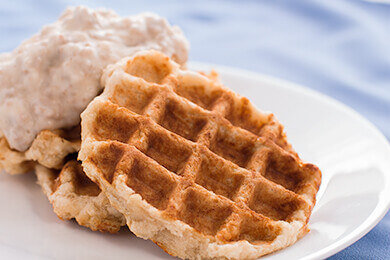 Comfort food made easy! Remember that waffle iron you use once or twice a year? Dust it off and get cooking!
The Gravy…
1 Pound Ground Sausage
1 Tsp Poultry Seasoning
1/2 Stick of Butter
1/2 Cup Flour
3 Cups Cold Milk
1 tsp Salt
Fresh Cracked Pepper
Method
Brown the sausage in a sauce pot with the poultry seasoning. If there is a lot of grease, drain the grease. Add butter and melt. Add flour and stir until no flour chunks can be seen. Add milk and bring to a simmer. Season with salt and pepper
The Biscuits…
2 Cups of All Purpose Flour
2 teaspoons Baking Powder
1 teaspoon Sugar
3/4 teaspoon salt
1/2 teaspoon Baking Soda
1/4 Cup Butter
1 1/4 Cup Buttermilk
1 Teaspoon Oil
Method
Combine flour, baking powder, sugar, salt and baking soda in a large bowl. In another large bowl, melt the butter in the microwave (about a minute). Add cold buttermilk and stir with the butter. Add oil to the buttermilk. Add buttermilk mixture to the flour mixture and stir to combine.
Scoop the batter into a hot waffle iron. I used an ice cream scooper to but the batter in, about half a cup per biscuit. Depending on the waffle iron you have, you will need to adjust the amount of batter you put in per biscuit.
Top with the gravy and enjoy!