Ingredients-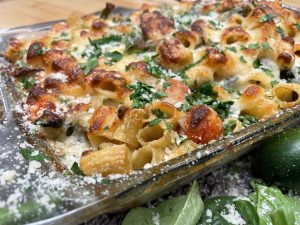 1 Pound Mezzi Rigatoni
1 Medium or Two Small Zucchini, Diced
1 Red Pepper, Diced
4-5 Garlic Cloves
Olive Oil
Salt and Pepper
5 oz Fresh Baby Spinach
8 oz Portobello, Sliced
1 Pint Cherry Tomatoes
1 Bunch Asparagus, Trimmed and Cut 1/2 Inch Pieces
2 Cups Heavy Cream
1 Cup Parmesan, Plus some extra for the top
2 Cups Shredded Mozzarella
Method-
Cook the pasta but boil for 1-2 minutes less than the box says. Drain and set aside.
While the pasta is getting set, in a large skillet or pot, heat a little olive oil and sautee the zucchini, pepper and garlic for about 5 minutes stirring often. Season with salt and pepper. Add in the spinach and mushrooms and cook for another couple of minutes until the spinach wilts. Add the asparagus and tomatoes and cream. Bring to a simmer and cook for about 5 minutes. Add in the cup of parm and stir. Pour in the pasta and toss to coat.
Spray a 9×13 pan and place the pasta mixture in. Top with mozzarella and sprinkle a little parm. Bake at 400 degrees for 20 minutes. Should be golden brown and bubbly. Serve and enjoy!