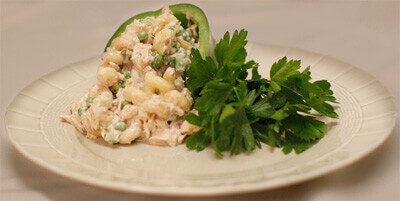 Ingredients:
8 Oz Noodles (Fusilli, Cellentani)
1 Can Tuna (12 oz, drained)
½ Cup Green Pepper Chopped
½ Cup Celery Chopped
½ Cup Mushrooms Chopped
¼ Cup Chopped Green Onion
½ Pound Frozen Green Peas (thawed)
1 Cup Mayo
½ Cup Chili Sauce
¼ Cup Relish
1 Tbsp Horseradish Prepared
Method:
Cook the pasta, drain and cool. Combine veggies with the tuna and fold gently. Combine mayo, chili sauce, relish and horseradish to make the dressing. Fold into veggies along with the pasta.
Served great as a lunch or light dinner. Makes about 6 servings