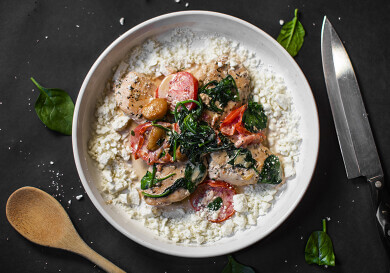 Ingredients:
6 Garlic Cloves, Peeled
Olive Oil
1 1/2 Pounds Chicken Breast
1/2 Tsp Salt
Pinch Black Pepper
1/4 Tsp Paprika
1/4 Tsp Dried Oregano
1/4 Tsp Dried Thyme
2 Cups Low Sodium Chicken Broth
1 Roma Tomato Sliced
4 ounces Fresh Baby Spinach
2 Tbsp Light Cream
Feta Cheese
Method:
Toss the garlic with a little olive oil. Bake in a 350 degree oven until golden brown. Drain the oil
In a large skillet, heat a little oil (or use the remainder of the oil from the garlic if there is any left!). Combine the spices and season the chicken. Brown chicken on both sides. Add chicken broth and garlic cloves. Simmer, turning the chicken every couple of minutes. Once all the liquid has evaporated, add tomatoes and spinach. Toss until spinach is wilted. Add cream and stir, bring to a simmer then remove from the heat. Add feta cheese if desired and serve!