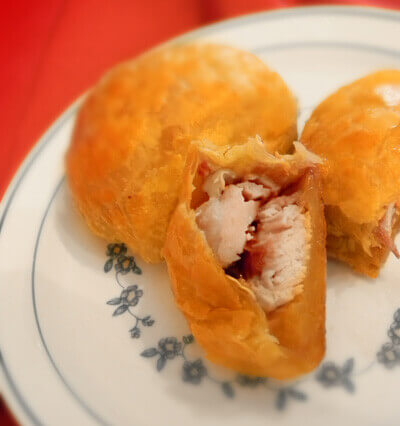 Ingredients:
6 squares of puff pastry about three inches square
1 egg scrambled
About ¾ pound Cooked turkey breast sliced thick
Seedless Raspberry preserves
About half a pound of Brie Cheese sliced thick
Method:
Make sure that the pastry is up to room temperature. Place a teaspoon of raspberry in the center. Top with a slice of cheese, then a slice of turkey. Make sure that the turkey and cheese fits inside the pastry square.
Fold the corners of the pastry square over the center, top and bottom and left and right to make an envelope. Pinch corners and seams together and turn right side up. Transfer to a cookie sheet with a sheet of greased wax paper. Brush on scrambled eggs on top of each pastry.
Bake at 350 degrees for about 30-40 minutes or until golden brown. Let rest once cooked for about 5 minutes before serving.