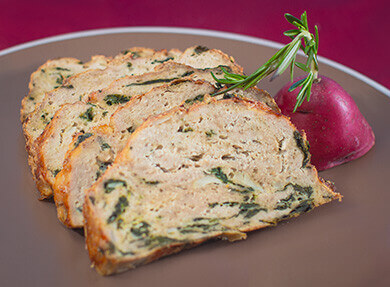 Ingredients:
8 ounces Fresh baby spinach
3-4 garlic cloves minced
salt and pepper
olive oil
2 Pounds ground turkey
2 eggs
salt and pepper
1/2 tsp dried rosemary
1/2 cup freshly grated parmesean
Method:
In a large pot, heat a little oil and add in the spinach, garlic and salt and pepper to taste. Sautee until the leaves are soft. Add a splash of water and cook for about 5 minutes. Drain and press all the liquid out of the spinach.
In a large bowl, place the remainder of the ingredients. Add in the spinach and combine. Transfer to a foil lined and sprayed pan.
Bake at 350 degrees for about an hour or until fully cooked through.
Slice and serve!