A flavor fusion of a tuna melt with mac and cheese!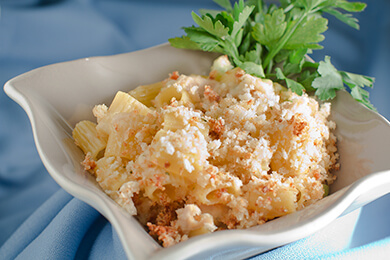 Ingredients:
1 12oz can Albacore Solid Tuna
2-3 Ribs of Celery Diced
1/2 Onion Minced
2 Tbsp Dried Parsley
2 Tbsp Dijon Mustard
1 Lemon juiced
1 Pound Pasta (Cavatappi, Rigatoni, Penne)
1 Stick of Butter
3 Tbsp Flour
2 1/2 Cups Milk
2 Cups Shredded White Cheddar
Salt and Pepper
1 1/2 cups Panko breadcrumbs
1/2 Cup Grated Parmesan
Method:
Combine tuna, celery, onion, parsley, Dijon, and lemon juice in a large bowl.
In a small sauce pot, melt 4 tbsp of butter and add the flour. Mix until smooth and add milk. Bring to a simmer stirring often. Add salt and pepper to taste. Add sauce to tuna mixture, breaking up the tuna just a little.
Cook the pasta al dente (until almost done). Drain and add it to the bowl. Add the cheese and mix well while still hot.
Melt the remaining butter in a sautee pan. Add breadcrumbs and parm. Toss and stir until just turning golden brown.
Spray a 9×13 pan and place the tuna mixture inside. Top with breadcrumb mixture and bake uncovered at 400 degrees for about 15 minutes. Serve and enjoy!