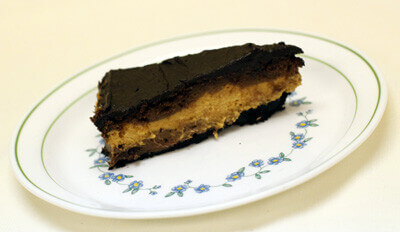 Ingredients:
rust:
1 1/2 cups chocolate cookie crumbs
1/2 stick butter, melted
Filling:
3 bricks (8 oz. each) reduced fat cream cheese
1 cup sugar
2 tbsp. cornstarch
3 large eggs
1/2 cup light sour cream
2 tsp. vanilla
1 cup (6 ox.) milk-chocolate chips, melted and cooled
1 cup canned pumpkin
1 tsp. pumpkin pie spice
1 cup (6 oz.) semi-sweet chocolate chips, melted and cooled
Chocolate Glaze:
3 ox. bittersweet baking chocolate
2 tbsp. butter
1 tbsp. light corn syrup
Method:
1. Heat oven to 350 degrees. Coat 8 in. spring-form pan with non-stick spray. Have ready a roasting pan larger than the spring-form pan.
2. Crust: Put crumbs in a small bowl; stir in butter until evenly moistened. Press firmly over bottom of pan. Bake 8-10 minutes until set. Cool on rack. Wrap outside of pan with heavy-duty foil. Reduce oven temp to 300 degrees.
3. Filling: Beat cream cheese, sugar, and cornstarch, in a large bowl with mixer until smooth. beat in eggs one at a time. Beat in sour cream and vanilla to combine. Divide batter evenly into 3 medium bowls. Stir melted chocolate milk chocolate into 1 bowl. Pour into crust in an even layer. Whisk pumpkin and pumpkin pie spice into another bowl. Carefully spoon over chocolate layer to cover and smooth into an even layer. Stir semi-sweet chocolate in remaining batter. Carefully spoon over pumpkin layer.
4. Set spring form pan in center of roasting pan. Place roasting pan in oven rack and add boiling water to come halfway up sides of spring form pan.
5. Bake 1 1/2 to 1 3/4 hours until set, but cebter still jiggles slightly when shaken.
6. Turn off oven (leave door closed); let cake cool in oven for 1 hour. If cake hasn't pulled away from sides of the pan, carefully run a think knife around the edge to release cake. Remove foil. Cook cake in pan on wire rack. Cover. Refrigerate at least 4 hours or overnight.
7. Chocolate Glaze: Stir ingredients in a small sauce pan over low heat until chocolate melts and mixture is smooth. Remove from heat; cool slightly.
8. Remove pan sides; place cake on serving plate. Sprad glaze over top to edge. Refrigerate until glaze sets.