A great soup for this time of year! Easy to make and warms you up!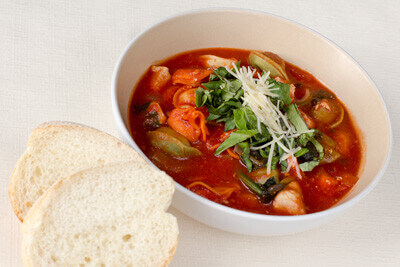 Ingredients:
1 Cup Chopped Onion
3-4 Garlic Cloves Minced
Olive Oil
1 Pound Chicken Breast Cubed
4-5 Ounces Fresh Baby Spinach
4 Cups Chicken Stock
29oz can Tomato Puree
Salt and Pepper
1 Pound Cheese Tortellini
Fresh Basil Chopped
Shredded Parmesean
Methods:
In a large pot, cook onions and garlic over high heat with a little olive oil. After about 5 minutes, the onions should turn translucent. Add the chicken breast and cook until the chicken is fully cooked. Add baby spinach and cook for an additional minute. Deglaze with chicken stock and tomato. Bring to a simmer and season with salt and pepper to taste. Reduce heat to low. Simmer for 20-30 minutes, stirring often. Add tortellini's and turn off the heat. Scoop into bowls and top with a little basil and Parmesan cheese. Serve and enjoy!