An old childhood standby with a little grown up taste!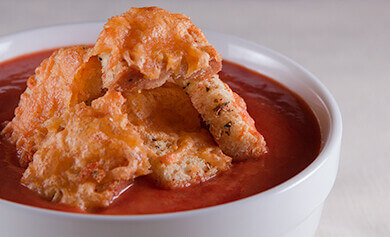 Ingredients:
2 28oz cans crushed tomatoes
1 tsp salt
1 tsp onion powder
1 tsp garlic powder
1 cup chicken stock
1 cup heavy cream
Combine all ingredients except the cream in a large pot and simmer for about 20 minutes stirring often. Whisk in cream and turn heat off
For the croutons
About a half of loaf of crusty Italian bread cut into large cubes (roughly 3 cups)
1/4 Cup Olive oil
1 Tsp Salt
1 tsp basil
1 tsp garlic powder
2-3 garlic cloves minced
1/4 cup Romano cheese
1/2 cup shredded cheddar
Method:
In a large bowl, toss and combine the bread, oil and seasonings. Spray a cookie sheet with pan spray and arrange the croutons so they don't over lap. Bake at 400 degrees for 15 minutes or until crunchy. Stir them up and sprinkle with Romano. Bake for 5 minutes. Top again with cheddar and bake again for 5 minutes. Cheese should be bubbly.
Remove and cool.
Serve the soup with a handful of croutons for a delicious take on a classic combo!