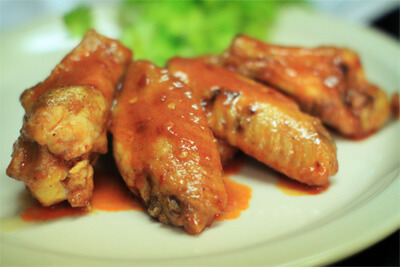 Jean's SWEET MERCY Wing Sauce!
In a sauce pan on the stove add…
Ingredients:
16 oz Tomato Sauce
¼ cup brown sugar
1/8-1/4 cup honey (depending on how sweet ya want it)
1/2 tbsp paprika
½ tbsp black pepper
2 tbsp Worcestershire sauce…(maybe a little more if you like)
2 tbsp Pickapeppa sauce
1 tbsp soy sauce
½ tbsp or more minced garlic…or garlic powder
½ tbsp onion powder 2 tbsp (or more) hot chili sauce..(I like Sriracha)
1 tsp or more of Wasabi
Sprinkle a little liquid smoke in the brew. Now bring to a boil for a few minutes while stirring to "cook it down" a bit and then pour on your wings.
Nick's WINGS OF FIRE!
2 Doz Chicken Wings
Canola oil
Salt and Pepper to taste
1 Stick of Butter
1/2 Apple Cider Vinegar
1 Tbsp Crushed Red Pepper Flakes
1 Tbsp Garlic Powder
2 Tbsp Cayenne Pepper
1 Cup Franks Hot Sauce
1/4 Cup Honey
Method:
Boil the chicken wings with a little salt until cooked through and not bloody. Drain and refrigerate.
For the Sauce, melt butter in a sauce pan. Add vinegar and seasonings and bring to a boil. Add Hot sauce and honey and simmer for about 20 minutes. Reserve.
Toss wings with canola oil to coat. Drain excess and transfer to a foil lined sheet pan and season with salt and pepper. Bake at 425 degrees for 15-20 minutes until crispy. Toss with hot sauce to coat and serve immediately with celery and blue cheese.