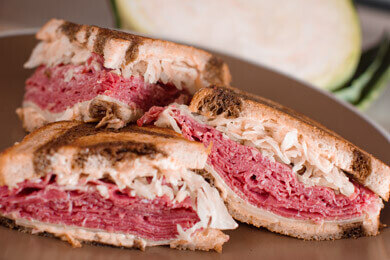 Ingredients:
1 Pound Thin Sliced Corned Beef
8 Slices of Swiss Cheese
1 Cup Sauerkraut
1 Loaf Marble Rye Bread
Butter
1000 island Dressing
Method:
Melt some butter and brush on 8 slices of bread (one side only)
In a hot griddle or frying pan, place the bread butter side down. Add dressing to each slice of bread then a slice of swiss.
Top half of the bread slices with a quarter pound of corned beef then a quarter cup of sauerkraut.
Combine the sandwiches as the bread is getting toasted, being careful not to burn turning often. Once cheese is melted and sandwich is hot, remove from pan and serve!