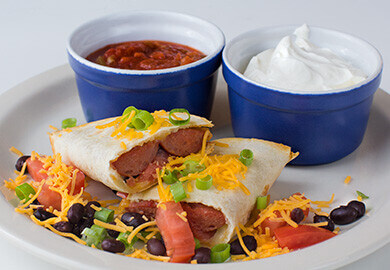 Ingredients:
1 Hot Dog split lentghtwise
1 Flour Tortilla
1 Tbsp Shredded Cheddar Cheese
1 Tbsp Shredded Monterrey Cheese
1 Tbsp Black Beans
1 Tbsp Diced Tomato
Method:
Heat up a griddle or frying pan. Add a little oil or butter. Place tortilla on pan, add cheese and hot dog. Melt. Add beans and tomatoes and fold over. When golden brown on both sides, and the cheese is melted, remove from pan. Cut and serve with sour cream and salsa!
Enjoy!