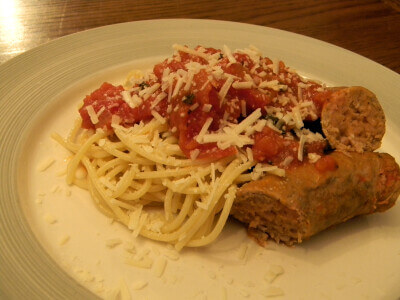 Ingredients:
1 Pound (about 6 links) Sweet and or Hot Italian Sausage
1 Small Onion Minced
1 Small Bunch Fresh basil Chopped
1 Tsp Olive Oil
1 Tbsp Chopped Garlic
2 Cans Crushed Tomatoes (28oz cans)
2 Cans Whole Peeled Italian Tomatoes (28oz cans)
1 Tsp Salt
1 Tsp Black Pepper
1 Tsp Garlic Powder
1 Tsp Basil
1 Tsp Oregano
Method:
In a large skillet, heat oil and brown the sausages. Add onions and garlic and cook for about 5 minutes and stir. Add fresh basil and cook for another minute. Transfer to a slow cooker, or put in large pot and set to low. Add tomatoes and spices. Break up the whole tomatoes a little as you pour them in. Cook in slow cooker on high for about 10 hours or until sauce is reduced. Serve with pasta and top with cheese if you please! Makes about a gallon, but freezes well!