Probably less practical, but still fun and delicious too! Not for the faint of heart, actually you may want to consult a physician before trying this one out. Or share with a friend or two!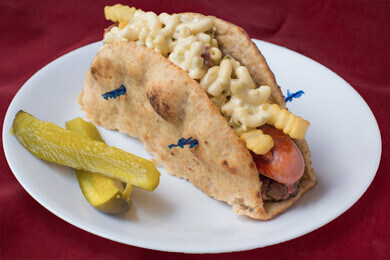 Ingredients:
2 Naan Loaves
4 Zweigle's Red Hots
2 1/4 Pound Beef Patties
8 oz Fries
1/2 Cup Macaroni Salad
Method:
You can switch out the hot dogs, but Zweigle's is the Rochester native!
Cook the fries as per bag instructions. Cook up the burgers and red hots until fully cooked through.
Place the burger on the Naan (you could use a pita too), layer on the red hots, fries and mac salad. Secure with a tooth pick.
Top with cheese if you'd like, or your own toppings!