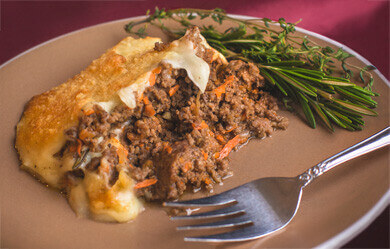 Ingredients:
3 Pounds Ground Beef
1 Large Onion Minced
2-3 Carrots Peeled and Shredded
3-4 Garlic Cloves minced
Salt and pepper to taste
2 Tbsp Worcestershire Sauce
1 Tbsp Tomato Paste
1 Cup Red Cooking Wine (Optional)
2 Sprigs Fresh Rosemary Destemmed
2 Sprigs Fresh Thyme Destemmed
2 Cups Chicken Stock
4 Russet Potatoes Peeled and Chunked
Salt and Pepper
1/4 Cup Heavy Cream
1 Cup Parmesan Cheese
Method:
Brown the beef in a pot with a little olive oil, the onions, garlic and carrots. Drain the grease and season with salt and pepper. De-glaze with Worcestershire sauce and wine(Optional) over high heat until almost all of the liquid has evaporated. Add herbs, tomato paste and chicken stock. Reduce down until moist, with a little liquid left in the pan. Remove from heat
Boil potatoes until soft. Drain then mash with seasonings, cream and cheese.
Place meat into a baking dish, top with potatoes and place in a 375 degree oven for 20-30 minutes. Potatoes should be golden brown and bubbly!
Serve and enjoy