Ingredients: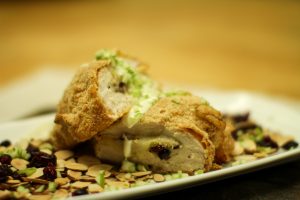 3 Pounds Boneless Skinless Chicken Breast
4 Tbsp Butter
1/2 Cup Flour
1 Cup Milk
1 Granny Smith Apple, Cored and Seeded and Minced
8oz Brie Cheese
1 Cup Shredded Mozzarella
1 Cup Sun Dried Cranberries
1 Tbsp Salt
1 Tsp Black Pepper
2 Cups Flour
4 Eggs, scrambled
4 Cups Plain Bread Crumbs
1 Stick Butter
1/2 Cup Flour
1 Cup Chicken Stock
1 Pint Heavy Cream
Salt and Pepper
Sliced Almonds 1 cup, Toasted
Method:
Trim and butterfly the chicken breast. Set aside
In a medium sauce pot, melt the butter and add in the flour. Stir constantly over medium heat for five minutes. Add the milk and stir, simmer. Add in the apples, brie, mozz, cranberries and seasonings. Stir often until thick. Allow to cool slightly
Stuff the chicken with the brie stuffing.
In three shallow pans, place the flour, eggs and bread crumbs. Coat each chicken one at a time in the flour, then eggs, then bread crumbs. Place the chicken on a baking sheet that has been sprayed with pan release.Bake at 350 for 25-30 minutes. Chicken should be fully cooked at 165 degrees.
In another sauce pot, melt the second listed butter and whisk in the flour. Cook on medium, stirring constantly for 5 minutes. Add in the chicken stock and cream and season with salt and pepper. Bring to a simmer.
Top the chicken with the sauce and almonds. Serve and enjoy! Or, come to one of our Family Life Dinner Shows and we will do all the work for you!