Looking for something a bit different? Try out this spicy and sweet soup!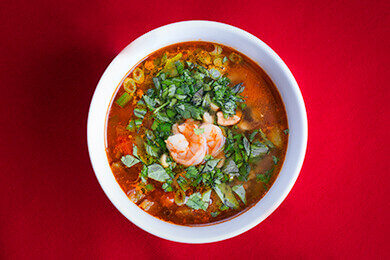 Ingredients:
1 Tbsp Olive Oil
1 Cup Chopped Onions
4 Minced Garlic Cloves
1 Thumb Sized Piece of Ginger, Peeled and minced
1/2 Red Pepper Chopped
1/2 Green Pepper Chopped
1 Pound of Raw Shrimp Peeled, Cleaned and Tails Off
1 Tbsp Siracha Sauce
1 Tsp Fish Sauce
1/4 Cup Peanut Sauce
6 Cups Water
1/2 Cup Roasted, Unsalted Cashews Chopped
1 Tbsp Fresh Basil Chopped
1 Tbsp Fresh Cilantro Chopped
Methods:
In a large pot, heat oil and sautee onions, peppers, garlic and ginger for about 5 minutes. Add shrimp and cook until fully cooked. Add the sauces and water. Bring to a boil, reduce to simmer for about 20 minutes. Once soup is served, top with herbs and cashews. Enjoy!