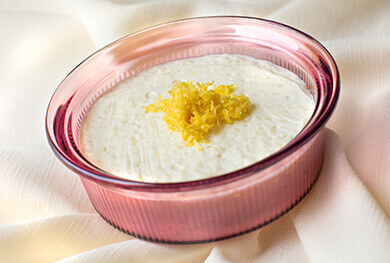 Ingredients:
2 1/4 Cup Whole Milk
1/2 Cup Heavy Cream
1 Egg
1 Tsp Finely Grated Lemon Zest
1/2 Cup Sugar
3 Tbsp "1 Minute" Tapioca
1 Tsp Vanilla
1/4 Tsp Nutmeg
Method:
In a heavy bottomed sauce pan, combine milk, cream, egg, lemon, sugar and tapioca. Let sugar dissolve for about 20 minutes.
Heat on medium high stirring often until rolling boil. Stir constantly as the mixture heats up so it doesn't burn. remove from heat, add vanilla and nutmeg and let cool for another 20 minutes.
Place into serving bowls and cover with plastic wrap. Press the plastic wrap onto the surface of the pudding. This will not let the "skin" to take shape.
Refrigerate overnight and serve!
Makes 6- 1/2 cup servings