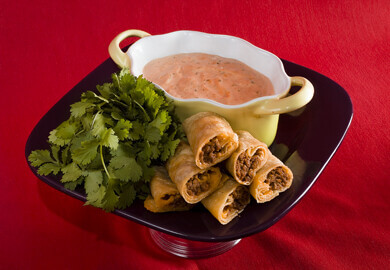 Ingredients:
The Taco Rolls
1 Pound of Ground Beef
2 Tbsp Taco Seasoning
2 Tbsp Taco Sauce
Dash of Hot Sauce (if desired)
1 Cups Sharp Cheddar Cheese Shredded
12 6″ Corn Tortillas
The dip
1 Cups Sharp Cheddar Cheese Shredded
1 Cup salsa
8 ounces Cream Cheese softened
1 Cup Sour Cream
1 Cup fresh cilantro
Method:
For the taco rolls, brown the meat and drain any excess fat. Add seasonings and taco sauce and cook thoroughly. In a skillet, heat about a cup of oil until hot but not smoking. Place a tortilla in the pan and flip after about 20 seconds. Remove from oil when tortilla starts to bubble. While the tortilla is still hot, add about a tablespoon of the meat and a tablespoon of cheese to the shell. Roll tightly and place in a baking pan. Repeat until all the meat is gone! Bake at 350 degrees for about 8-10 minutes or until crispy. Drain any extra oil.
For the dip, combine all ingredients in a blender or food processor until combined. Heat the dip in microwave in a microwave safe bowl. Allow to cool slightly and transfer to a serving bowl.
Slice the taco rolls in half and serve with the dip!