Ingredients: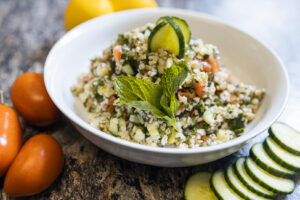 1 Cup Bulgar Wheat
3 Cups Water
1 Tsp Salt
1 Large Seedless Cucumber
4-5 Roma Tomatoes
1 Small Onion
1 Lemon
1 Bunch Fresh Parsley
1 Bunch Fresh Mint
3 Tbsp Olive Oil
Salt and Pepper
Method:
Bring the water to a boil and add the salt and wheat. Reduce heat to low and simmer for 15-20 minutes. Most of the water should be cooked out and the wheat is tender. Refrigerate to cool.
Chop the cucumber, onion and tomatoes into a fine dice. Mince the herbs. Zest the lemon and then squeeze all the juice out. Add everything together in a large bowl and season with salt and pepper.
Allow to marinate for about an hour or refrigerate until ready to be served!