Ingredients: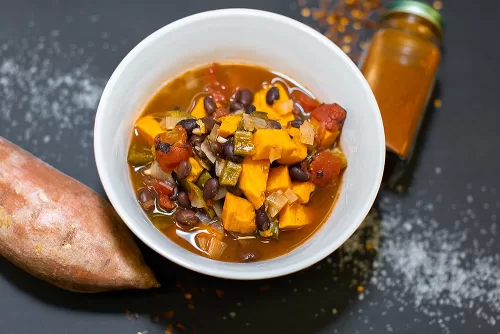 2 Sweet Potatoes (yams), Peeled and Cubed
1 Yellow Onion, Diced
4 Cloves of Garlic, Minced
1 Green Pepper, Diced
1 Poblano Pepper, Diced
1 14 oz Can Diced Tomatoes
2 15 oz cans Black Beans, Drained and Rinsed
3 Cups Vegetable Stock
1 Tsp Salt
1 Tbsp Chili Powder
1 Tbsp Cumin
1 Tsp Paprika
1/2 Tsp Cayenne Pepper
Method:
Add all ingredients into a large slow cooker and cook on low for 8 hours or on high for 5 hours. Top with your favorite chili toppings and enjoy! For a thicker chili, puree some of the beans before cooking!