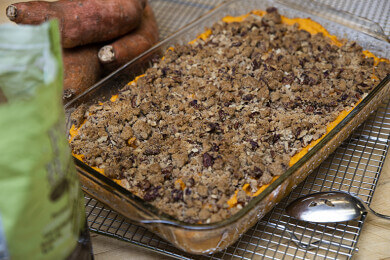 Ingredients:
4 Pounds Fresh Sweet Potatoes
Salt
2 Eggs
1 Stick Butter Melted
1/2 Cup Packed Brown Sugar
1/2 Cup Whole Milk
1/4 Tsp Fresh Ground Pepper
Topping-
1/2 Cup Flour
1/2 Cup Packed Brown Sugar
1 Cup Chopped Pecans
1/2 Stick Butter Melted
1 Tbsp Cinnamon
Method:
Wash sweet potatoes and boil with a little salt until a knife inserted releases easily. 40-60 minutes. While still hot, peel. Place potatoes in a large bowl and mash.
Allow to cool slightly then add the eggs, butter, milk, brown sugar and pepper. Mix with a hand mixer until smooth. Scoop into a 9×13 sprayed pan and smooth out.
Combine the topping ingredients in a small bowl and top the potatoes with the mixture. Bake at 325 degrees for 30 minutes.
Serve and enjoy!