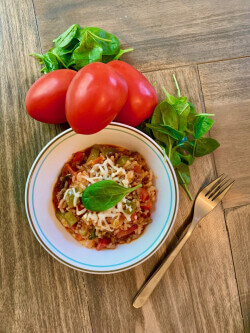 Ingredients:
1 Pound Ground Beef
1 Cup Diced Yellow Onion
2-3 Garlic Cloves, Minced
1 Tbsp Olive Oil
1 Large Red Pepper, Diced
1 Large Green Pepper, Diced
1 Cup White Rice
2 Cups Water
2 Cups Fresh Baby Spinach
1 Tbsp Salt
1 Tsp Cumin
1 Tsp Garlic Powder
1 Tbsp Italian Seasoning
1 14.5 oz can Diced Tomatoes
1 8 oz can Tomato Sauce
1 Tsp Worcestershire Sauce
1/2 Cup Shredded Cheddar Cheese
1/2 Cup Shredded Mozzarella
Method:
In a large skillet, heat olive oil and brown beef with the onions and garlic. Drain well.
Add peppers, rice, water, seasonings, tomatoes and Worcestershire sauce. Cover with a lid and simmer for 15 minutes. Stir and recover. Simmer for another 15 minutes or until rice is cooked and the liquid is mostly gone. Remove pan from heat. Top with cheese and allow to melt.
Serve and enjoy!