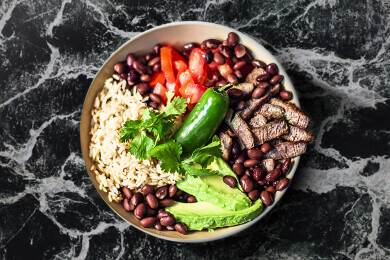 Ingredients Per Bowl:
6 Ounces of Steak
Adobo Seasoning
1/2 Cup Brown Rice
1/2 a Tomato Diced
1/2 Avocado Sliced
1/2 cup Black Beans
1 Tsp Cilantro
Optional toppings
Method:
Cook rice in 1 cup of water. Simmer with the lid on. Set aside
Season the steak with the adobo seasoning generously. Pan sear, grill, or broil the steak until desired doneness. Slice thin.
Arrange the bowl as you'd like. Add the tomatoes, avocado, beans and cilantro. Top with salsa, cheese, sour cream or what ever you'd like! Can be served burrito style too if you want
Serve and enjoy!