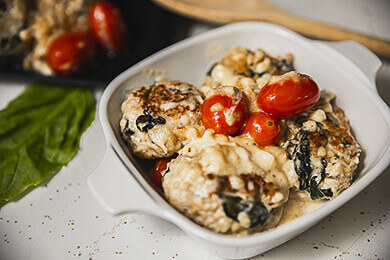 Ingredients:
1 1/2 Pounds Ground Turkey
Olive Oil
4 oz Fresh Baby Spinach
1 Egg
4 oz Ricotta Cheese
1 1/2 Cups Panko Bread Crumbs
1 Tbsp Salt
1 Tsp Poultry Seasoning
1 Tsp Dry Basil
1 Tsp Dry Garlic
3-4 Garlic Cloves Minced
1 Cup White Cooking wine or Chicken Stock
1 Cup Heavy Cream
1 Pint Cherry/Grape Tomatoes
1/4 Cup Parmesan Cheese Grated
Salt and Pepper
2 Tbsp Butter Cold
Method:
In a large skillet, heat a little olive oil over medium heat. Sautee spinach until wilted and drain well.
Mix together the turkey, spinach, egg, ricotta, breadcrumbs and seasonings in a large bowl.
Shape into meatballs. Heat the skillet over medium high heat and brown the meatballs on all sides. Add garlic and cook for 5 minutes. Add white wine or chicken stock and allow to cook down, stirring often. Add heavy cream and tomatoes. Bring to a simmer. Once tomato skins have "popped" remove from the heat and add the cheese and butter. Stir until melted.
Serve and enjoy!
Serves 4-6