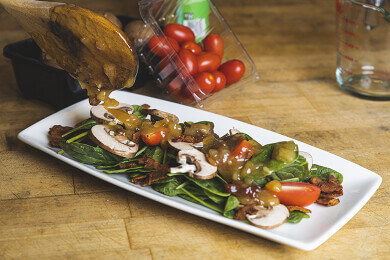 Ingredients:
1 Pound of Bacon Chopped
1 Medium Vidallia Onion Diced
3-4 Cloves of Garlic Minced
2/3 Cup Apple Cider Vinegar
1/2 Cup Rice Vinegar
1 Cup Water
1 Cup Sugar
2 Tbsp Dijon Mustard
1/3 Cup Bacon Fat
2 Tbsp Cornstarch Dissolved in cold water
Red Pepper Flakes
Fresh baby Spinach
Grape or Cherry Tomatoes
Sliced Mushrooms
Method:
Cook bacon in a large skillet until crispy. Drain, but keep the fat separate for later.
In the same skillet, sautee the onion and garlic for about 5 minutes over medium high heat. onions should start to turn translucent. Add the vinegar and sugar. Reduce the heat to simmer and cook for another 5 minutes. Add the water, mustard and bacon fat and simmer for another 5. Add the corn starch and red pepper flakes. Simmer for yet another 5 minutes. Remove from the heat, putting the bacon back in the dressing. Allow to cool for a few minutes before drizzling over the salad. Serve immediately.