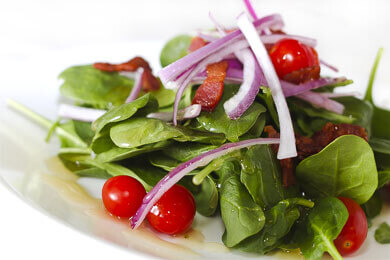 Ingredients:
Hot Bacon Dressing
1 Pound of Bacon, Chopped
1 Cup Cider Vinegar
1 Cup Sugar
2 Cups Water
2 Tbsp Cornstarch, diluted in cold water
Method:
Crisp the bacon in a large frying pan. Drain and reserve. In a medium sauce pot, combine the water, vinegar and sugar. Boil for about 15 minutes or until all the sugar is dissolved. While the mixture is still boiling, add the cornstarch and stir. Let the sauce come back to a boil and check thickness. Remove from heat and let stand for 10 minutes to cool slightly. Add bacon and stir. Great dressing for a spinach salad!