Spinach Parmesan Pork Chops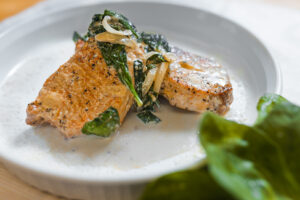 Ingredients:
1 1/2 Pounds Boneless Pork Chops
Olive Oil
1/2 Tsp Salt
1/4 Tsp Black Pepper
1/4 Tsp Paprika
1 Yellow Onion Sliced Thin
4-5 Garlic Cloves
1 Cup Chicken Stock
1 Cup Heavy Cream
2 Cups Fresh Baby Spinach
1/2 Cup Parmesan Grated
Method:
Season the chops with salt pepper and paprika. Heat a little olive oil in a large skillet over medium high heat. Sear off the pork chops on each side 3-5 minutes, reduce heat to medium low. Flip the chops a few times to cook evenly. Once fully cooked, remove chops from the pan and add in the onions and garlic. Sautee until tender and translucent. Add chicken stock and simmer until liquid is about halfway gone. Add in the heavy cream. Bring to a simmer and return the chops to the sauce. Simmer for about 5 minutes. Stir in the spinach until just wilted. Sprinkle parm over then pan and stir to thicken. Remove from heat and serve!