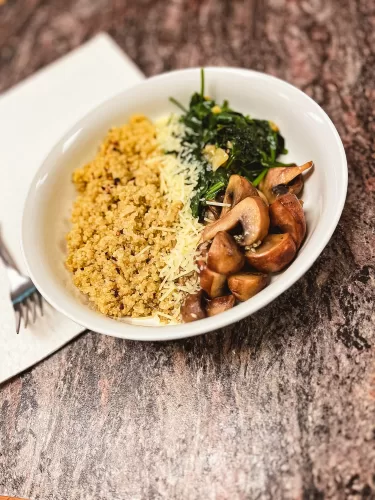 Ingredients:
1 Cup White Quinoa
1 3/4 Cup Water
2 Tbsp Olive Oil
1 Pound Portobello Mushrooms, Quartered
3 Cloves of Garlic, Minced
1 Small Onion, Diced
12 oz Fresh Baby Spinach
1/2 Cup Vegetable Stock
Pinch Red Pepper Flakes
Salt and Pepper
1 Tsp Oregano
1/4 Cup Parmesan Cheese
Method:
Rinse and drain the quinoa. Boil the quinoa with the listed water and then reduce to a simmer and cover with a lid. Simmer for about 10-15 minutes. Drain
In a large skillet, heat the olive oil and sautee the mushrooms for 5 minutes. Remove the mushrooms from the pan and add in the onion and garlic. Sautee until golden brown, add in the spinach and stock and seasonings. Stir often until spinach is just wilted. Add back the mushrooms and quinoa to the pan, stirring in the cheese.
Serve and enjoy!