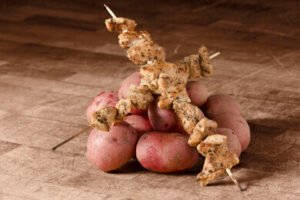 Ingredients:
1 1/2 Pounds Chicken Breast
1 Cup Canola Oil
1 Tbsp Salt
1 Tsp Garlic Powder
1/2 Tsp Paprika
1/2 Tsp Chili Powder
1/2 Tsp Oregano
1 Tsp Basil
1/8 Tsp Black Pepper
1/2 Tsp Poultry Seasoning
1/4 Cup Vinegar (white or Cider) Skewers
Method:
Cube the chicken breast in even chunks, about one inch square. Combine the marinade ingredients and coat the chicken. Let marinade for at least two days to get optimal flavor. Skewer the chicken cubes and grill, turning often to prevent burning. If using bamboo skewers, soak in water overnight so that the skewers don't burn up! Grill until cooked all the way through (165 degrees) Serve on a bun, Italian bread or salad!