Perfect for summer, this easy dish is spicy yet satisfying!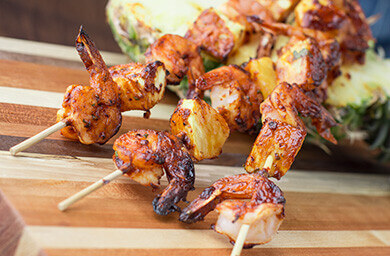 Ingredients:
1/2 Pineapple Cut into cubes
Skewers
1 Cup BBQ sauce
4 Oz Chipotle Peppers with sauce
2 Cloves of garlic
1/4 Cup Cider vinegar
1 tbsp fresh Cilantro
Method:
Skewer the shrimp and pineapple, alternating. Combine bbq, peppers, garlic, vinegar and cilantro in a food processor or blender until smooth. Poor over kabobs, cover and refrigerate. Marinate for at least 4 hours
Grill until shrimp is fully cooked.
Makes about 8 Skewers