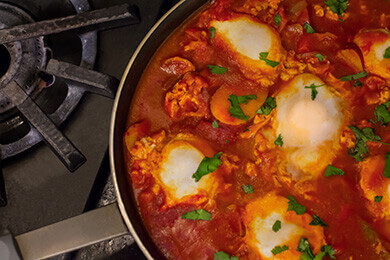 Ingredients:
1 Red Pepper Diced
1/2 Medium Onion Sliced
2-4 Garlic Cloves Minced
4 Red Potatoes Sliced Thin
3 Tbsp Butter
1 Tsp Salt
1/2 Tsp Garlic
1/2 Tsp Paprika
1/2 Tsp Cayenne
3 Beefsteak Tomatoes Diced
1 29oz can Tomato Sauce
2-3 Chipotle Peppers Minced
1 Tbsp Diced Green Chills
6-8 Eggs
Cilantro
Method:
In a large skillet, heat butter and sautee peppers, onions, potatoes and garlic. Season with spices. Stir often for about 10 minutes. Add tomatoes, tomato sauce and peppers. Bring to a simmer and cook until potatoes are tender. (About another 10 minutes). Crack eggs into the mixture while still simmering. Cover with a lid. After about 5 minutes, remove from heat and top with cilantro. Serve and enjoy!