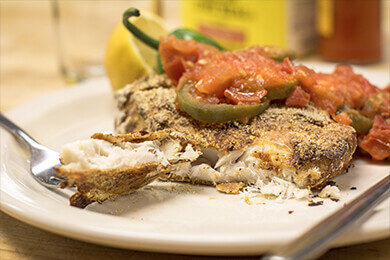 Ingredients:
2 Pounds Boneless Skinless Fish (cod, Catfish)
2/3 Cup Corn Meal
1/2 Cup Flour
1 Tsp Salt
1 Tsp Garlic Powder
1/2 Tsp Cayenne Pepper
1/2 Tsp Paprika
1/2 Tsp Chili Powder
1/4 Tsp Black pepper
2 Eggs
1 Tbsp Hot Sauce
1 Jalapeño Pepper sliced
3-4 Plum Tomatoes diced
Juice of half a lemon
Method:
Combine the corn meal, flour and seasonings and set in a shallow pie plate. Mix up the eggs and hot sauce in another pie plate. Dip the fish in the corn meal mixture and toss to coat. Dip into egg mixture, then back into the corn meal mixture.
Spray a pan with pan spray and place fish on. Bake at 400 degrees for 20-30 minutes. Fish should be cooked all the way through and crispy.
While the fish is cooking, sautee up the jalapeño and tomatoes with a little oil. Add lemon juice. Sautee for about 10 minutes.
Top the fish with the tomatoes and peppers and serve!