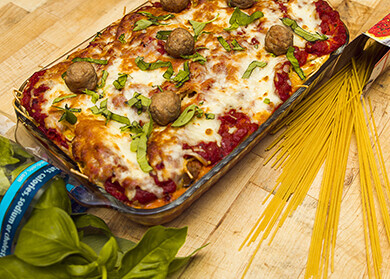 Ingredients:
2 Pounds Spaghetti
2 Jars Pasta Sauce
2 Cups Shredded Mozzarella
1 Cup Grated Parmesan
8 Oz Ricotta
2 Eggs
8oz Heavy Cream
1/4 Cup Chopped Fresh Basil
1 Pound of Meatballs
Method:
Cook the noodles al dente (about a minute or two before the package time). Drain
Combine the ricotta, eggs and heavy cream with 1/2 a cup of the Parmesan. Set aside
Mix the remainder of the parm with the mozzarella. Set that aside too
Pour a little pasta sauce in the bottom of a sprayed 13×9 baking pan. Place half of the spaghetti over the sauce. Layer the remainder of the first jar of sauce, half of the the ricotta mixture, half of the meatballs, half of the cheese and half of the basil.
Layer on the remainder of the ingredients the same way, but leave off the basil this time. Bake uncovered at 350 degrees for 30 minutes or until bubbly. Top with remainder of fresh basil. Serve and enjoy!
Serves 6-8