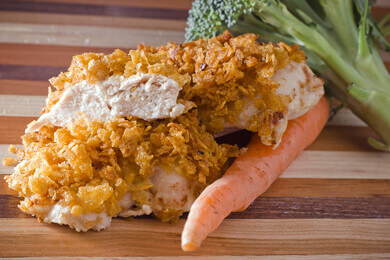 Ingredients:
Southern chicken recipe:
4 chicken breasts (5 ounces; not thick breasts)
buttermilk ranch dressing,
2 cups 3 cups crushed cornflakes
1 stick butter
1/2 tsp Lowry's Seasoned Salt
1/2 tsp pepper
1/2 tsp McCormick Steakhouse Onionburger seasoning
Method:
Preheat oven to 350. Place chicken in bowl, cover with dressing, place on a cookie sheet. Melt butter on medium heat in skillet, but avoid it turning brown. Add seasonings. Stir cornflakes in, coat in butter and seasonings. Spread on top of chicken. Bake for 25 minutes.